Breast Implant Removal
(En Bloc Capsulectomy)
Be Your Personal Best
Dr. Cole at Boise Plastic Surgery / Boise Hand Center in Boise is a highly experienced and qualified plastic surgeon specializing in breast implant removal surgery (En Bloc Capsulectomy). His cutting-edge surgical techniques help make the procedure as safe and successful as possible, reducing potential risks and complications. He offers patient-centered care tailored to each individual's unique needs before, during, and after surgery. You will be seen personally by Dr. Cole at each and every visit. With Dr. Cole's years of experience, expertise, and commitment to the highest quality of care, patients can feel confident that their En Bloc Capsulectomy procedure will provide the comfort they need.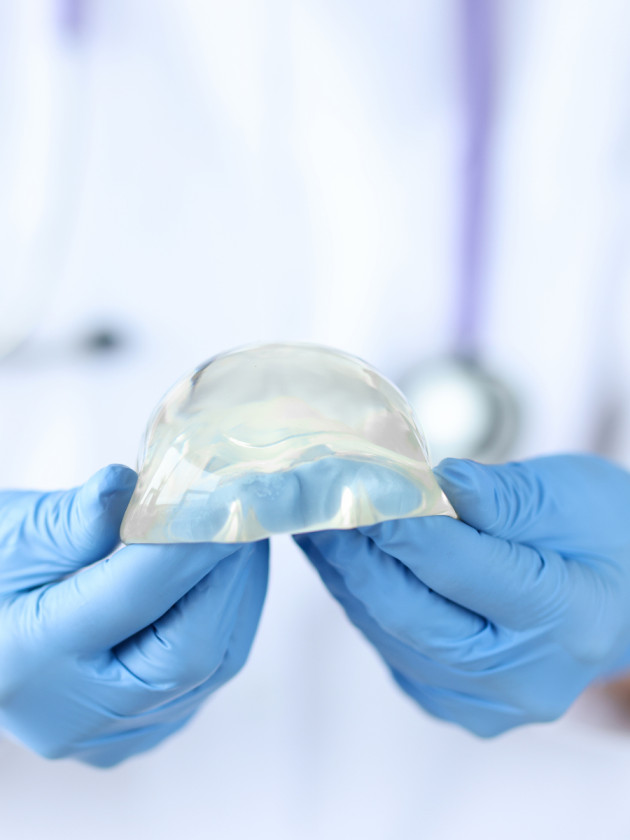 What is Breast Implant Removal (En Bloc Capsulectomy)?
En Bloc Capsulectomy is a surgical procedure that involves the complete removal of both the implant and the scar tissue capsule surrounding it. As breast implants age, they can become susceptible to rupture and are more likely to cause rippling under the skin. It is important to remember that although aging can increase the possibility of rupture, all implants are susceptible to ruptures regardless of age. For this reason, Dr. Cole opts for an En Bloc Capsulectomy to reduce the risk of complications resulting from potential fluid accumulation in the breast or any abnormalities within the capsule contents. 
This type of capsulectomy differs from traditional capsulectomy. It involves a meticulous approach that prevents spillage of potentially harmful particles during operation by carefully removing both the implant and capsule as one solid piece. During this procedure, Dr. Cole will ensure that all components, such as silicone fragments or pathogenic materials, are removed safely and effectively from your body. 
For these reasons, Dr. Cole always prefers to perform an en bloc capsulectomy. Although this procedure is surgically very demanding, Dr. Cole has been able to attain the level of technical skill an experience required to perform this procedure routinely, effecteivtly and most importantly, safely.  By having this type of procedure performed, you can rest assured that all pieces have been removed safely and completely with minimal risk of any additional complications due to inflammation or infection.
Dr. Cole is devoted to empowering patients with concerns about their breast implants and providing a game plan that fits their goals. He does not perform any breast augmentations where an implant might be placed but might suggest a breast lift if a patient is looking for a surgical enhancement. No matter what, we strive to listen to your concerns and put you in control of your treatment. 
Why Would a Breast Implant Removal Be Necessary?
Breast implant removal can be necessary for many reasons, such as a confirmed rupture or other concerns about the implant, if the patient no longer wishes to have the implants, or if there are signs of capsular contracture. Age is not necessarily a factor for removal, if any of the above reasons are met, it might be worth considering implant removal rather than just leaving an implant in situ. Signs of breast implant illness are currently being heavily researched, and while we do not yet have a complete understanding of this issue, some symptoms that have been reported include: 
Impairment to memory and concentration

Feelings (begin or increase) of depression, anxiety, and frequent insomnia

Hair loss and irritated skin (rashes)

Dry mouth and eyes

Sudden onset of concerning respiratory issues (cough, shortness of breath)

Unusual pain in joints or muscles

More frequent headaches 

Constant feeling of fatigue  
Further research is needed to understand this condition better, but in general terms, any unusual or persistent changes should be investigated with your doctor.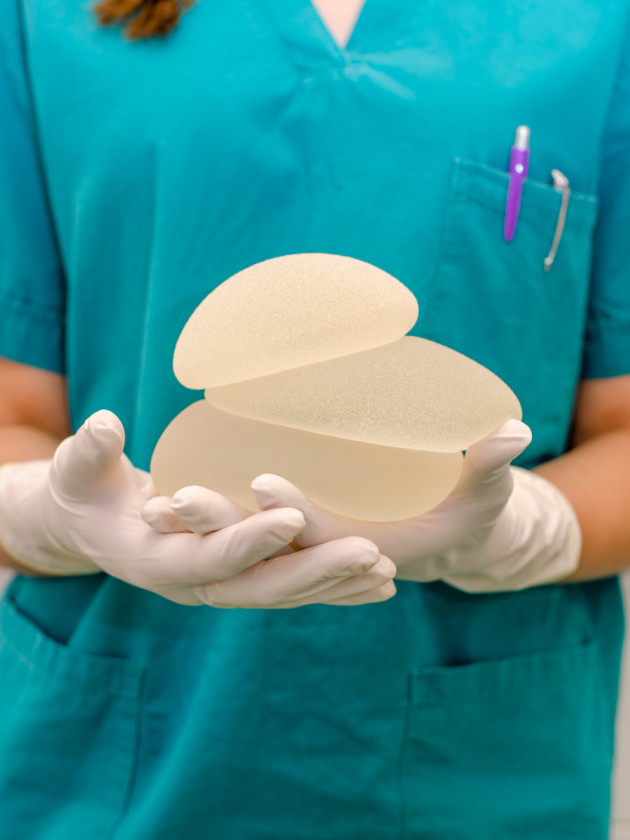 What to Expect After Breast Implant Removal Surgery
How Long Does Recovery From Breast Implant Removal Take?
Recovering from breast implant removal typically takes around six weeks. In that time, patients should be able to live a normal life, but they should avoid any physical stress or strain that involves anything over 5 lbs. During the first week, one drain is left in each breast which may need to be emptied of fluids before being personally removed by Dr. Cole. Chest compression wraps are used for two weeks following surgery to help with the healing process each day. The patient should remove them for a warm, soapy shower and then replace them daily. After two weeks of using compression wraps, patients may transition to wearing sports bras for support instead. Around day five or seven after the procedure, most people can begin feeling "back to normal." Physical activities such as heavy lifting, running, and jumping should still be avoided for at least six weeks until complete recovery.  
What Happens If Implants Are Removed and Not Replaced? 
If a breast implant is removed and not replaced, the breast will be smaller than when the implant was initially inserted. Additionally, there will be some saggy skin in the area where the implant used to be and a drop in the nipple position, which can lead to an undesired aesthetic appearance for some women. Although the skin may tighten up slightly over time, it's usually not to a significant degree that could restore a cosmetically pleasing appearance. 
A mastopexy or breast lift may remedy this situation, restoring the breast to a more cosmetically optimal form and shape. Fortunately, this procedure can often be combined with breast implant removal if done by a skilled surgeon like Dr. Cole, who has extensive experience with both procedures. 
Is It Painful to Have Your Breast Implants Removed?
Having your breast implants removed is more painful than having them implanted. It takes a lot of work from an experienced surgeon to remove the complete capsule. For that reason, Dr. Cole always performs a nerve block during the removal surgery to alleviate pain and discomfort. He also supplies patients with postoperative analgesics to help keep them comfortable after their procedure. Generally, most patients are off their postoperative narcotics within two to three days and off all pain medications by day five or seven after the procedure. Of course, this varies from patient to patient since everyone heals differently from these procedures. 
Is Breast Implant Removal A Major Surgery?
Breast implant removal is considered major surgery. It is more painful and complicated than initially having a breast augmentation, as Dr. Cole must remove the entire capsule. To do this, a lot of work and microsurgical skills are required. This includes understanding the specific implant type and placement, properly managing any tissue or nerve damage that could occur during removal, removing scar tissue or adhesions, and ensuring all old material is completely removed. 
Will I Feel Better After Implant Removal Surgery?
In Dr. Cole's experience, most of his patients who have undergone explant surgery report impressive improvements. There is no definitive answer to the question of whether someone will feel better after implant removal surgery due to its highly personal nature. It is encouraging to hear that, for many people, this procedure can be a source of relief from physical and psychological symptoms. 
Several online support groups are full of stories from real-life patients who have gone through the same experience, providing invaluable insight into how others have dealt with the recovery process and giving moral support and guidance on managing challenges along the way. Dr. Cole is a strong advocate of such support groups and he very much appreciates their collective community outreach and support. Dr. Cole always recommends touching base with members of these support groups in order for any prospective patients to hear first hand experience and powerful personal insight.   
Contact Idaho's Top Ten Breast Implant Removal Surgeon Now!
If you are looking for the best surgeon to perform a breast implant removal, Dr. Cole should be at the top of your list. He is Board Certified in Plastic and Reconstructive Surgery by the American Board of Plastic Surgery. Not only did he train at the prestigious Baylor College of Medicine in Houston, Texas, but he also completed training at MD Anderson Cancer Center, one of the world's foremost breast surgery and breast reconstruction centers. Since that time, Dr. Cole has been named a Top Doctor in Idaho for Plastic and Orthopedic Hand Surgery on multiple occasions, a Surgical Times Top Breast Implant Removal Surgeon in the United States, and is a Member of the Breast Program Leadership Council. Additionally, Dr. Cole is an active member of the American Society of Plastic Surgeons and the American College of Surgeons. With his distinguished background and years of experience performing breast implant removals, you can trust that your procedure will be done correctly, with your health goals being the top priority.Dr. Cole aims to meet personally with every patient during any appointment. Schedule an appointment today with Dr. Cole to discuss how he can help you achieve your desired results!